When it comes to portable Bluetooth speakers, you can't go wrong with Bang & Olufsen – a brand synonymous with premium audio and elegant design. In this showdown, we'll be taking a look at two of their popular models: the Beosound Explore and the A1. I'll provide you with a detailed comparison of these two speakers, touching on their features, advantages, and differences, helping you decide which one is the better fit for your needs.
At first glance, Beosound Explore and A1 may appear similar; however, they cater to different audiences. The Beosound Explore is more suitable for adventure enthusiasts, boasting a robust build and impressive water, dust, and drop resistance. On the other hand, the A1 attracts the urban user, offering a sleek design and enhanced voice assistant integration with Amazon Alexa.
So, whether you're an adventurer in search of a rugged companion, or an audiophile needing a stylish addition to your home or office, stick around as I dive deeper into the numerous features and differences between the Beosound Explore and A1.
By the end, you'll have a clear understanding of which speaker offers the perfect balance of design, durability, and sound quality for your listening pleasure.
Beosound Explore vs A1: Key Features
When comparing Beosound Explore and A1, it's crucial to weigh the key features of each product to make an informed decision. Both speakers boast impressive attributes, but I'll highlight their primary differences and similarities to help guide your choice.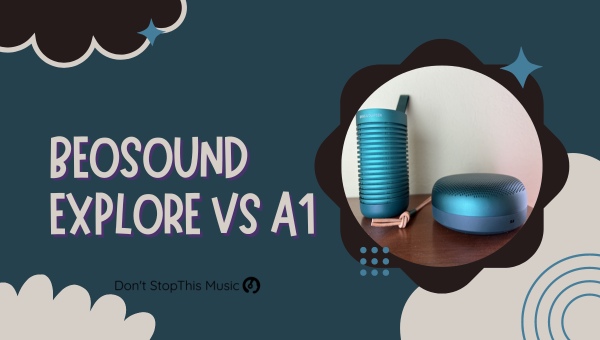 | Feature | Beosound Explore | A1 |
| --- | --- | --- |
| Water & Dust Resistance | IP67 | No specific rating |
| Battery Life | 27 hours | 18 hours |
| Weight | 631g | 558g |
| Design | Rugged & Practical | Sleek & Stylish |
| Microphone | No | Yes |
| Audio Performance | Enhanced at loud volume levels | True360 omnidirectional sound |
Beosound Explore is an ideal option for outdoor enthusiasts who prioritize durability and portability. Its key features are:
IP67-rated water and dust resistance, making it highly suitable for adventurous outdoor activities
27 hours of battery life, ensuring you won't be left without tunes during long trips
Compact, lightweight (631g) design, easy to carry and attach to your gear with its integrated carabiner
Enhanced performance at loud volume levels, which is perfect for open spaces
On the other hand, the A1 focuses more on sound quality and design aesthetics. Here are its key features:
True360 omnidirectional audio dispersion, delivering a balanced audio experience with full-room coverage
Up to 18 hours of battery life, adequate for daily use
Aesthetic appeal with its sleek design and premium materials
Lighter weight (558g) compared to the Beosound Explore, making it more portable for everyday use
Built-in microphone, which comes in handy for phone calls or voice assistant integration
In terms of sound quality, both speakers deliver exceptional audio performance. While the Beosound Explore excels at louder volumes, the A1 offers a well-rounded listening experience with its omnidirectional audio. Additionally, the A1's built-in microphone enables calls and voice assistants – a feature missing in the Beosound Explore.
Ultimately, your specific needs and lifestyle preferences will determine the best choice between these two speakers. If you're the adventurous type seeking a tough, long-lasting speaker, the Beosound Explore is an excellent choice. However, if you prioritize design aesthetics and voice call capabilities in a lightweight package, the A1 is a clear winner.
Also Read: Mackie CR3-X vs CR4-X: A Detailed Comparison
Comparing Design and Build Quality: Beosound Explore vs A1
When it comes to the Beosound Explore and the A1, both speakers offer sleek, modern designs that immediately catch the eye. Let's dive into the specifics of these two speakers and compare their designs and build quality.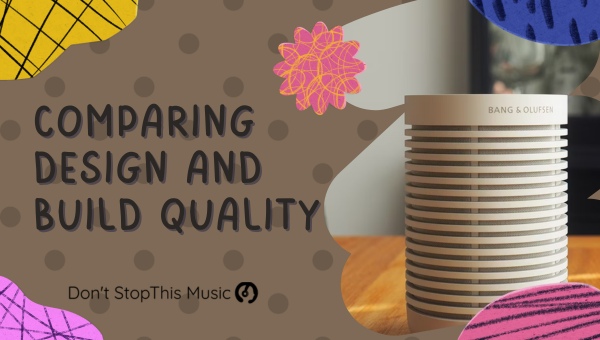 | Specification | Beosound Explore | A1 |
| --- | --- | --- |
| Dimensions | 81mm x 124mm | 133mm x 46mm |
| Weight | 631g | 558g |
| Water and Dust Rating | IP67 | IP67 |
Beosound Explore features a cylindrical shape, measuring 81mm x 124mm, and weighing 631g. It's compact and durable, with an aluminum exterior that not only provides protection but adds a touch of elegance as well.
The Explore is also dust and waterproof, boasting an impressive IP67 rating. Some features that make this speaker stand out include:
Sturdy carabiner for easy attachment to bags or belts
Built-in microphone for hands-free calls
Dedicated buttons for volume, play, pause, and Bluetooth pairing
On the other hand, the A1 demonstrates a unique, round design, measuring 133mm x 46mm, and weighing 558g. While it's not as compact as the Explore, its flat, circular shape ensures stability and makes it highly portable.
Similar to the Explore, the A1 sports an IP67 rating, ensuring it can handle water exposure and dust. The A1 also features:
Leather carry handle for effortless transport
Built-in microphone for calls and voice assistance
360-degree sound dispersion
Now, let's consider their build quality. Both speakers sport a high-quality aluminum casing, which ensures durability and protection against everyday wear and tear. The Beosound Explore's rugged exterior and carabiner make it the ideal companion for outdoor activities, while the A1's compact design and leather handle provide optimal portability for any occasion.
One potential downside to the Explore's aluminum finish is that it may be more susceptible to scratches than the A1. However, it's a small trade-off for its stylish appearance and durability.
Another aspect to keep in mind is battery life. The Beosound Explore claims to offer up to 27 hours of playback time, while the A1 offers up to 18 hours. Depending on your needs, this difference in battery life may influence your decision.
The Beosound Explore and A1 both provide stylish, durable designs with excellent build quality. While the Explore offers more ruggedness and longer battery life, the A1 shines for its unique aesthetics and portability. Ultimately, it comes down to personal preferences and how you plan to use your speaker.
Also Read: Polk Reserve R300 vs R350 vs R400: Detailed Comparison
Sound Performance and Audio Quality
When it comes to sound performance and audio quality, both the Beosound Explore and the A1 have their strengths and weaknesses. I've had the opportunity to test both of these products and here's what I found in terms of their sound output.
The Beosound Explore boasts a rich and detailed sound signature. Its strong points include:
Deep and powerful bass, which lends a satisfying warmth to the audio
Clear and crisp treble, ensuring that you won't miss any detail in high-frequency elements like cymbals or vocal harmonics
Excellent soundstage for a speaker of its size, providing an immersive, almost 3D audio experience
However, Beosound Explore isn't without its flaws. Some minor issues I observed were:
A slight dip in midrange frequencies can make certain instruments or vocal tracks sound recessed or overshadowed by bass and treble elements
At very high volumes, the sound can become a bit harsh or fatiguing to listen to for extended periods
On the other hand, the A1 excels in providing a well-balanced, natural-sounding audio profile. A few aspects of the A1's sound performance that impressed me were:
Accurate and detailed midrange reproduction, which contributes to a faithful representation of most music genres and instruments
Crisp and transparent treble, though perhaps not as prominent or sparkly as the Explore's
Minimal distortion, even when pushed to high volume levels
The A1 isn't perfect either, and I noticed a couple of drawbacks during my testing:
Bass, while still present and enjoyable, isn't as deep or powerful as the Beosound Explore's
Slightly narrower soundstage than the Explore, which can make the audio sound somewhat more confined
Both the Beosound Explore and A1 have standout qualities in terms of sound performance and audio quality. The Explore offers a more impactful listening experience with its deep bass and spacious soundstage, while the A1 shines with accurate midrange reproduction and minimal distortion.
Ultimately, your preference will depend on what you prioritize in a portable speaker – the additional bass and immersive sound of the Explore, or the balanced, natural audio of the A1.
Battery Life and Charging
When I was looking for a portable speaker, battery life and charging capability were essential factors for me. Beosound Explore and A1 both have impressive battery life, but they differ in certain aspects.
| Speaker | Battery Life | Charging port |
| --- | --- | --- |
| Beosound Explore | 27 hours | USB-C |
| A1 | 24 hours | USB-C |
To make charging simple, both speakers have USB-C ports for fast charging. However, the Beosound Explore has an advantage when it comes to battery life. With a fully charged battery at moderate volume levels, the Beosound Explore can last for 27 hours, while the A1 gives a slightly shorter 24-hour run-time.
It's important to note that battery life varies depending on the volume level and type of audio being played. When listening at higher volumes, the battery life in both speakers may be reduced.
There's a handy battery indicator feature for each device so I can keep an eye on my speaker's battery levels:
Beosound Explore: It has a series of four LED lights, located next to the charging port, that indicates the current battery level. When it's time for me to charge the speaker, the bottom light turns red.
A1: This speaker has a discrete LED on its touch panel first introduced in the 2nd generation. A short click and hold on the battery button makes it show the current battery level.
Lastly, both the Beosound Explore and A1 are compatible with power banks or external USB chargers. This means I can charge the speakers anywhere, without having to worry about finding an AC outlet.
Overall, I'd say it's a close call between the Beosound Explorer and A1 when it comes to battery life and charging capability. The final choice might come down to various other factors like sound quality, performance, price, etc.
Also Read: 4 Best Led Zeppelin Songs of All Time
Bluetooth Connectivity and Range
When it comes to Bluetooth connectivity and range, the Beosound Explore and A1 are worthy contenders for your consideration. Having tested these devices myself, I'd like to share some key details to help you get a clearer picture of their capabilities.
Beosound Explore features Bluetooth 5.2, providing a secure and stable connection. It's designed to offer an impressive range of 30 meters (around 98 feet). As a result, you can be confident that your speaker will stay connected even if you move around within this generous radius. Moreover, the latest Bluetooth technology ensures efficient and seamless streaming without any interruptions.
On the other hand, the Beosound A1 isn't far behind in terms of Bluetooth capabilities. Although it's equipped with the slightly older Bluetooth 5.1 version, it still maintains strong connectivity with an impressive range of 25 meters (about 82 feet).
Naturally, both devices support various audio codecs for optimal playback quality. Here are some of the key codecs supported by each speaker:
Beosound Explore: SBC (Subband Codec), AAC (Advanced Audio Codec), and aptX (Adaptive).
Beosound A1: SBC, AAC, and aptX.
In real-life usage, the connectivity and range of both devices stood up quite well. I found Explore's Bluetooth 5.2 to deliver a slight edge in terms of both stability and maximum range. However, the A1 still performed admirably, and any differences in connectivity may not be easily noticeable in everyday situations.
Additionally, I should note that the A1 offers the convenience of a built-in microphone for speakerphone calls, while the Explore does not. Although not directly related to Bluetooth connectivity, this is a worthwhile consideration depending on your usage preferences.
Overall, both the Beosound Explore and A1 showcase excellent Bluetooth connectivity and range within their respective specifications. Whether you need a device for home use or outdoor adventures, you can expect reliable and consistent performance from either option.
Also Read: Polk S50 vs S55 vs S60 – The Ultimate Comparison
Water Resistance and Durability
When it comes to water resistance and durability, there's no denying that both the Beosound Explore and A1 have their strong points. Let's dive deeper into what sets these two apart in this regard.
First off, the Beosound Explore stands out with its IP67 water and dust resistance rating. This means it can be submerged in water up to a depth of 1 meter for 30 minutes. This durable speaker also boasts an impressive anodized aluminum exterior, which offers protection from drops, scratches, and the occasional tumble. Some of the key features:
IP67 water and dust resistance rating
Anodized aluminum exterior
Can be submerged up to 1 meter/30 minutes
On the other hand, the Beosound A1 also offers a great deal of protection, boasting its own IP67 rating. This makes it equally adept at handling exposure to water and dust, ensuring you can enjoy your music even in harsh environments.
Its sturdy build is complemented by a sleek, refined design that has a double-molded polymer base, adding to its resilience against accidental knocks and drops. The A1's key features include:
IP67 water and dust resistance rating
Double-molded polymer base
Can be submerged up to 1 meter/30 minutes
When comparing the durability of these two speakers, there are a couple of notable differences. While the Beosound Explore relies on its robust anodized aluminum exterior to protect it from damage, the A1 opts for a double-molded polymer base, ensuring it's sleek yet solid.
While both may fare well against wear and tear, I noticed that the Explore's anodized aluminum exterior tended to resist scratching a bit more effectively.
Given their impressive performance in terms of water resistance and durability, it's apparent that both the Beosound Explore and A1 are well-equipped to withstand the demands of outdoor use.
Whether you opt for the rugged anodized aluminum exterior of the Explorer or the refined double-molded polymer base found on the A1, you can feel confident that your speaker will stand up to the elements and keep the music playing. Just bear in mind that while both options can handle some water exposure, they should still be treated with care to ensure their longevity.
Portability and Travel-friendliness
When comparing the Beosound Explore and A1 concerning portability and travel-friendliness, it's important to consider factors like size, weight, and overall design. I've found that both devices excel in different aspects, making them suitable companions for various adventures.
Being lightweight is crucial for any travel gadget, and Beosound Explore stands out in this aspect. Weighing only Explore: 0.6 kg (1.3 lbs), it's lighter than the A1: 0.68 kg (1.5 lbs). This difference might not seem dramatic, but even a little less weight can make a big difference when packing your luggage.
The Beosound Explore also wins in the dimensions department. Its cylindrical shape, with a height of Explore: 81 mm (3.19 inches) and a diameter of Explore: 126 mm (4.96 inches), makes it more compact than the A1, which measures A1: 134 x 47.5 x 126 mm (5.3 x 1.87 x 4.96 inches).
The Explore's smaller footprint makes it easier to fit in a backpack or carry-on luggage without sacrificing on sound quality.
Durability-wise, both speakers are designed to handle the great outdoors. They each feature:
Water and dust resistance (Explore: IP67; A1: IP68)
Robust build quality that can withstand drops and impacts
Non-slip surfaces for secure placement during use
As for battery life, it's a mixed bag. The Beosound Explore boasts an impressive 27 hours of playback at moderate volume levels, while the A1 comes in at a respectable 24 hours. In most cases, that's plenty of power for a weekend getaway or even a longer trip if used sparingly.
Now, let's talk about accessories designed for adventurers like us. The Beosound Explore comes with an integrated carabiner clip, which I found extremely useful for attaching it to my backpack, belt loop, or even a tent while camping. On the other hand, the A1 offers a built-in leather strap for easy hanging – versatile, though not as secure as the carabiner option.
Smart Features and Voice Assistance
When it comes to smart features, both the Beosound Explore and the A1 have a lot to offer. I've had the chance to test out these devices and found that they each include their respective voice assistants, ensuring a seamless experience while using them.
The Beosound Explore has built-in Google Assistant integration, which allows you to perform various tasks using voice commands. You can ask questions, control smart home devices, play music, and more, all without lifting a finger.
Another notable feature is its support for Bluetooth 5.2, which provides fast and stable connections. Additionally, it's capable of connecting to multiple devices simultaneously, making it a versatile option for those who multitask.
On the other hand, the A1 features built-in Amazon Alexa support. It offers a wide range of functionality, just like Google Assistant, and can be used to perform tasks, such as controlling your smart home, getting weather updates, and more.
The A1 also boasts Bluetooth 5.0, ensuring solid connections between devices. One unique feature of the A1 is its True360 omnidirectional sound, which offers an immersive listening experience by ensuring consistent sound quality throughout the room.
Some key smart features differences:
Beosound Explore: Google Assistant integration, Bluetooth 5.2
A1: Amazon Alexa integration, Bluetooth 5.0, True360 omnidirectional sound
The compatibility of these devices with their respective voice assistants is a major deciding factor when choosing between them. While Google Assistant and Amazon Alexa both have their own strengths and weaknesses, your personal preference and existing ecosystem will likely influence your choice.
It's essential to weigh the pros and cons of each device's smart features, voice assistance, and compatibility before making a decision. The Beosound Explore and A1 both offer great options in their own right, and the choice will ultimately come down to your specific needs and preferences.
Also Read: Polk DSW PRO 440 vs PRO 550 vs PRO 660
Price and Value for Money
When considering the Beosound Explore and the A1, it's important to weigh the price and value for money of each speaker. Let me share my thoughts on this based on my experience with the products.
The Beosound Explore is priced at $199 while the A1 comes with a price tag of $250. Let's take a look at the features and factors that can affect the value for money of both speakers:
| Feature | Beosound Explore | A1 |
| --- | --- | --- |
| Price | $199 | $250 |
| Size | Compact | Slightly larger |
| Durability | High | High |
| Sound Quality | 360-degree | Omnidirectional |
| Battery Life | 27 hours | 18 hours |
| Smart Assistant | None | Alexa |
Let's compare the two speakers in a markdown table:
Based on these features, it's evident that Beosound Explore provides a better price-to-performance ratio. It's more budget-friendly, has a slight edge in sound quality, and offers longer battery life. However, the A1's additional smart assistant integration and a slightly larger design could sway some buyers who value those features.
In terms of overall value, both speakers offer great sound quality and durability. The clear winner in terms of price is the Beosound Explore with a difference of $51. While the A1's additional features might justify the higher price for some, it's essential to consider your specific needs before making a decision.
It's all about choosing the speaker that best fits your individual preferences and requirements. As an experienced user of both products, I can attest that either choice will offer a satisfying audio experience, and it mostly boils down to the price point and specific features that matter most to you.
Conclusion
After comparing the Beosound Explore and A1, it's evident that both speakers have their own unique strengths and weaknesses. To make a decision, it's essential to consider individual preferences and demands.
To sum up, the Beosound Explore is the winner for those who require durability and extended battery life without compromising on sound quality. It's a tailored choice for outdoor enthusiasts and adventures.
However, if the priority lies in superior audio and an impressive call experience, the A1 emerges as a better pick. Ultimately, the decision between Beosound Explore and A1 boils down to individual preferences and requirements.