Few bands have captured the essence of rock 'n' roll quite like Led Zeppelin. Their powerful blend of blues, folk, and hard rock has left an indelible mark on the music world, inspiring countless musicians and creating some of the most iconic songs in history. We're thrilled to share our picks for the 10 best Led Zeppelin songs of all time.
Formed in 1968, Led Zeppelin's original lineup consisted of guitarist Jimmy Page, singer Robert Plant, drummer John Bonham, and bassist/keyboardist John Paul Jones.
Together, they went on to become one of the most successful and influential bands in the history of rock music. With eight studio albums and numerous live recordings, there's no shortage of phenomenal tracks to choose from when compiling a list of their best songs.
In this article, we'll delve into the unforgettable riffs, powerful vocals, and legendary drumming that earned Led Zeppelin their place in the pantheon of rock 'n' roll greatness.
From their groundbreaking debut to their final studio release, we've handpicked the ultimate Led Zeppelin playlist for diehard fans and newcomers alike. So, prepare to be transported on a musical journey through some of the finest moments in rock history.
Celebrating the Legendary Led Zeppelin
Few legendary bands have left as lasting an impact on the world of rock as Led Zeppelin. Formed in 1968, this English rock band quickly made a name for itself with its uniquely powerful, yet versatile, sound.
With the incredible talents of Robert Plant, Jimmy Page, John Bonham, and John Paul Jones, they were a force to be reckoned with. In this section, we'll explore some lesser-known facts about this legendary band.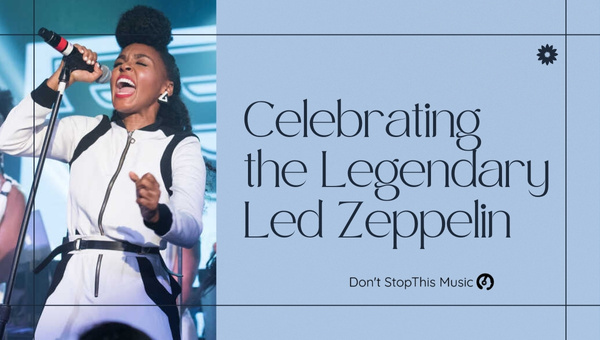 Led Zeppelin was initially a supergroup, formed by Jimmy Page recruiting three extraordinarily talented musicians, each bringing their own unique style and prowess to the table.
This combination led to the creation of their distinctive and groundbreaking sound. Plant's powerful and emotive vocals, the complex and innovative guitar work of Page, the thunderous drumming of Bonham, and the versatile bass playing and keyboard skills of Jones all came together to form the perfect ensemble.
Also Check: 5 Best Luke Combs Songs: List Of His Greatest Hits Till 2023
Throughout the 1970s, Led Zeppelin soared to new heights, releasing eight studio albums in only ten years. Despite this fast pace, they didn't sacrifice quality for quantity, as all albums were critically acclaimed and commercially successful.
Some of their most iconic songs, such as "Stairway to Heaven," "Whole Lotta Love," and "Immigrant Song," were born in this prolific period. Even to this day, these tracks continue to captivate audiences and leave a significant impact on rock music. Here's a brief look at their discography in those years:
Led Zeppelin (1969)
Led Zeppelin II (1969)
Led Zeppelin III (1970)
Led Zeppelin IV (1971)
Houses of the Holy (1973)
Physical Graffiti (1975)
Presence (1976)
In Through the Out Door (1979)
Not only known for their musical talent, Led Zeppelin also had an aura of mystery surrounding them. They often avoided media attention and rarely gave interviews.
Additionally, they were one of the first bands not to release singles in the UK, focusing on creating full album experiences for their fans. This decision further added to their mystique and enigmatic presence, strengthening their fans' loyalty and devotion.
Despite their disbandment in 1980 after the tragic death of drummer John Bonham, Led Zeppelin's influence has remained strong in popular culture.
As we uncover and celebrate the stories behind the 10 best Led Zeppelin songs of all time, we invite you to join us in appreciating the extraordinary talent and unforgettable impact of this legendary band. So let's dive into the music and discover what makes Led Zeppelin truly one of a kind!
1. Stairway to Heaven
No discussion of Led Zeppelin's greatest hits would be complete without mentioning their most iconic song, Stairway to Heaven. We'll break down the timeless magic of this classic tune and explore what makes it a standout masterpiece in their impressive catalog of rock anthems.
One major aspect of Stairway to Heaven's enduring appeal is its dynamic structure. It starts with a soft, acoustic intro and gradually builds in intensity, culminating in an electrifying guitar solo by Jimmy Page. This progression creates an emotional journey for listeners that keeps them engaged and captivated from start to finish.
An essential component of any Led Zeppelin song is Robert Plant's vocal performance. In Stairway to Heaven, Plant's haunting, ethereal voice connects with listeners on a deep level.
His lyrics, rife with mythical imagery and poetic language, encourage reflection and interpretation. The song's message is one of hope and possibility, a theme that resonates with fans across generations.
Key lyrics: "There's a sign on the wall, but she wants to be sure / 'Cause you know sometimes words have two meanings."
Furthermore, the complexity of Stairway to Heaven's composition showcases the band's musicianship. With intricate fingerpicked guitar patterns and unexpected rhythmic changes, this track defies standard conventions that define the rock genre. It's a prime example of the creativity and innovation Led Zeppelin brought to their music.
Despite its lengthy duration – at just over 8 minutes – Stairway to Heaven remains highly popular among fans and has become a staple of classic rock radio stations. Additionally, the song has earned numerous accolades, cementing its status as a true rock classic.
2. Kashmir
Kashmir stands out as one of the most iconic hits by Led Zeppelin, enchanting fans with its hypnotic, eastern-inspired sound. When we take a closer look at the song, we discover how it showcases the band's ability to blur the lines between genres and experiment with innovative sounds.
Originally released on the Physical Graffiti album in 1975, Kashmir introduced listeners to a new dimension of Led Zeppelin's music. Featuring a captivating blend of Eastern instruments and arrangements, it's no wonder that even today, the song remains a tried and true fan favorite.
Guitarist Jimmy Page and vocalist Robert Plant can be credited with composing this sonic masterpiece, while John Bonham's powerful and distinct drumming adds the perfect rhythmic touch.
The song's origin story can be traced back to a journey taken by Plant and Page through the Moroccan desert. Fascinated by the diverse cultures and natural beauty, they translated their experiences into an unforgettable tune.
Kashmir's longevity is evident through its numerous reprises by famous artists, as well as its prominent place on many 'greatest songs' lists.
Here are some notable elements of Kashmir that contribute to its legendary status:
Unique tuning: Known as DADGAD tuning, this specific method allowed Page to create the song's distinctive sound.
The Mellotron: A unique keyboard instrument, which helped the band achieve the lush, orchestral feel present in the track.
Eastern influences: This song showcases both Indian and Moroccan musical inspirations, setting it apart from typical rock compositions.
The sheer impact of Kashmir on the world of rock music cannot be overstated. This track continues to inspire generations of musicians with its innovative fusion of styles and sounds.
Some covers and renditions of Kashmir worth mentioning include:
Ann and Nancy Wilson of Heart
P. Diddy and Jimmy Page's collaboration for the soundtrack of "Godzilla" (1998)
4 Non-Blondes
In the pantheon of rock anthems, Kashmir undoubtedly occupies a revered position. Led Zeppelin's bold experimentation and their incorporation of Eastern sounds have left listeners mesmerized, making this track an essential in any rock music aficionado's collection.
3. Since I've Been Loving You
Led Zeppelin has produced countless classic tunes, but when it comes to unforgettable ballads, we believe Since I've Been Loving You undoubtedly stands out.
Released as part of the band's third album, Led Zeppelin III, this track has captured the hearts of fans across generations. In this section, we'll dive into what makes "Since I've Been Loving You" a truly iconic ballad in the history of rock music.
First and foremost, the intense emotion in "Since I've Been Loving You" is what sets it apart from other Led Zeppelin songs. The lyrics, penned by Robert Plant, convey a tale of love, heartbreak, and the struggle to maintain a relationship.
Plant's vocals take listeners on an emotional journey, showcasing his incredible range and making it one of his most vulnerable performances to date.
Lyrics: Work so hard, I couldn't unwind / Get home late, and I just can't find/ Since I've been loving you, I'm about to lose my worried mind
Another factor that contributes to the song's lasting impact is the incredible musicianship of Led Zeppelin. Guitarist Jimmy Page pours his soul into the emotive guitar solos while keyboardist John Paul Jones provides a hauntingly beautiful backdrop with his tasteful use of the Hammond organ.
The dynamic interplay between the band members is particularly impressive in this song, with drummer John Bonham playing a crucial role in elevating the intensity of the track.
| Instrument | Player |
| --- | --- |
| Vocals | Robert Plant |
| Guitar | Jimmy Page |
| Bass | John Paul Jones |
| Drums | John Bonham |
One cannot speak of "Since I've Been Loving You" without mentioning its live performances. The song has been a staple of Led Zeppelin's concert repertoire since its debut.
The band's mesmerizing renditions, often featuring extended solos and improvisations, have left audiences spellbound time and again.
"Since I've Been Loving You" is truly one of Led Zeppelin's greatest ballads, and it has earned its place among the band's most beloved and enduring songs.
Its powerful lyrics, extraordinary musicianship, and unforgettable live performances make this ballad an essential part of any Zeppelin fan's collection.
4. When the Levee Breaks
Led Zeppelin's blues influence is undeniable, and one song that perfectly exemplifies this is When the Levee Breaks. Originally recorded by Kansas Joe McCoy and Memphis Minnie in 1929, Led Zeppelin transformed this classic blues song into a hard-hitting, unforgettable rock masterpiece in 1971 on their fourth album.
We can't discuss When the Levee Breaks without mentioning its iconic drum beat, masterfully played by John Bonham. His powerful, rhythmic pulse serves as the backbone of the song, providing an incredible foundation for the rest of the band to build upon.
Guitarist Jimmy Page showcases his impressive slide guitar skills, which gives the song a haunting bluesy edge that's impossible to ignore.
Blues music heavily inspired Led Zeppelin's lyrics in When the Levee Breaks, as well. Robert Plant adapted the original song's message by incorporating themes of resilience and survival in the face of adversity. The lyrics evoke a sense of impending doom, and Plant's powerful, anguished voice adds to the song's overall dramatic impact.
Here's a quick comparison of the lyrical evolution from the 1929 version to Led Zeppelin's rendition:
Original version (1929)
Written as a response to the Great Mississippi Flood of 1927
Focuses on the disaster's devastating impact on the lives of those affected by it
Led Zeppelin's version (1971)
Maintains the reference to the flood but broadens the theme to include resilience and perseverance in the face of catastrophe
Evocative imagery paints a vivid picture of the struggle and impending doom
As with many of their songs, Led Zeppelin's use of innovative recording techniques made When the Levee Breaks truly stand out. The band employed ambient recording methods to capture Bonham's thundering drum sound.
They placed the drums at the bottom of a three-story stairwell and used microphones positioned at various heights to capture the drum's massive echo. This technique resulted in a colossal, larger-than-life drum sound that has since become the song's signature element.
When the Levee Breaks is a prime example of Led Zeppelin's blues roots and showcases their ability to transform traditional blues into groundbreaking rock 'n' roll.
From Bonham's amazing drumming to Page's slide guitar and Plant's passionate vocals, this song remains a testament to the extraordinary talent and relentless innovation that defines Led Zeppelin.
Conclusion
Led Zeppelin's music has left an indelible mark on rock and roll. Their influence continues to be felt by musicians and fans, proving their legendary status is well-deserved. Furthermore, their groundbreaking music style paved the way for countless rock bands and budding musicians.
We can't summarize Led Zeppelin's impact without mentioning their live performances that defined an era. The band's electrifying on-stage presence and unforgettable concerts brought together people from different walks of life, fueling their ever-growing fanbase.
So let's raise a toast to Led Zeppelin, a band that has undeniably shaped rock history and continues inspiring generations of musicians and music aficionados.