When it comes to high-quality headphones, two models from Bang & Olufsen's Beoplay series have been making waves recently: the Beoplay H95 and the Beoplay HX.
Both boast impressive audio performance and exceptional design, but choosing between them might not be an easy task. In this article, I'll delve into the key differences between Beoplay H95 vs HX, so you can make an informed decision.
The Beoplay H95 comes equipped with active noise cancellation (ANC) technology, enabling you to immerse yourself in your audio experience. With an impressive battery life of up to 38 hours with ANC enabled, these headphones are perfect for long listening sessions or travels without having to worry about frequent charging.
On the other hand, the Beoplay HX boasts an even longer battery life, reaching up to 40 hours with ANC on. In addition, the HX offers a sleek and user-friendly design, making them easy to handle and comfortable to wear.
So when it comes to Beoplay H95 vs HX, you'll need to weigh the benefits of each model and see which better suits your needs and preferences.
Comparing Design: Beoplay H95 vs HX
When it comes to comparing the design of Beoplay H95 and HX headphones, there are several distinguishing factors we need to consider. Right off the bat, I noticed the differences in materials and weight that make these headphones unique from each other.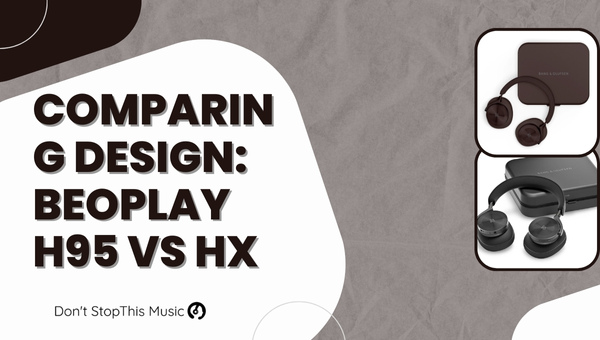 The Beoplay H95 has a Luxurious design that is immediately apparent. It's crafted with premium materials such as:
Anodized aluminum for a polished and durable frame
Ultra-soft lambskin ear cushions for unparalleled comfort
Cowhide leather headband for a high-end look and feel
To add to the luxurious design, the H95 headphones weigh around 323 grams. While they might be a tad heavier than the HX, they're definitely well-balanced and provide a comfortable, secure fit.
On the other hand, the Beoplay HX showcases a Sleek and minimalistic design with its use of elegant, lightweight materials, such as:
Polymer and recycled aluminum for a lightweight yet strong build
Soft memory foam ear cushions wrapped in lambskin for optimal comfort
Braided fabric headband for a stylish, modern aesthetic
With a weight of approximately 285 grams, the HX headphones are lighter than the H95 and provide a more subtle, understated look.
Now, let's compare some of the design dimensions of these two headphones:
| Beoplay H95 | Beoplay HX |
| --- | --- |
| Width: 7.87 inches (200 mm) | Width: 6.89 inches (175 mm) |
| Height: 8.07 inches (205 mm) | Height: 7.48 inches (190 mm) |
| Depth: 1.97 inches (50 mm) | Depth: 3.43 inches (87 mm) |
As evident from the table, the Beoplay H95 is marginally larger than the HX, with a slightly wider and taller frame. The HX, in contrast, has a deeper frame, which allows the ear cups to envelop your ears more efficiently.
When it comes to color options, the Beoplay H95 is available in Classic Black and Misty Blue. Meanwhile, the HX offers three elegant choices – Timber, Sand, and Black Anthracite.
Lastly, both headphones come equipped with a carrying case, yet the H95's aluminum carrying case provides extra protection and boasts a top-tier appearance.
After considering these factors, it's clear that both the Beoplay H95 and HX offer unique design elements that cater to different preferences.
While the H95 leans towards a more luxurious and high-end aesthetic, the HX focuses on a sleek, minimalistic design that remains stylish and comfortable in its own right.
Also Read: AKG C414 XLS vs XLII: Unveiling Key Differences
Audio Performance: Beoplay H95 vs HX
Comparing the audio performance of the Beoplay H95 and HX, I observed noteworthy differences between these two high-quality headphones. While both offer outstanding sound, their unique features set them apart in a few significant ways.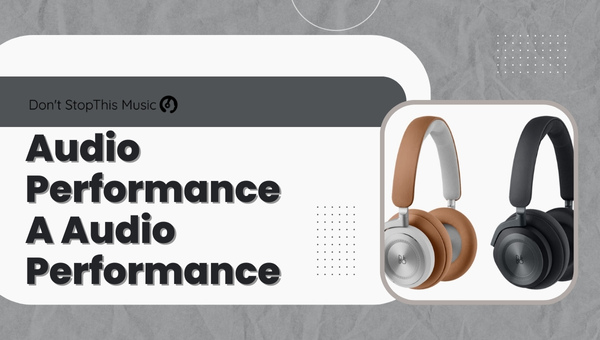 When testing out the Beoplay H95, I noticed its audiophile-grade sound is backed by two custom-tuned titanium drivers.
These 40mm speakers with neodymium magnets provide exquisite sound accuracy and an expanded frequency range. Thanks to the Electro-Dynamic transducers, I was able to enjoy a balanced, crisp, and natural sound experience with deep bass and ribbon-like treble.
In contrast, the Beoplay HX shines with its own Adaptive Active Noise Cancellation (ANC) system. This feature adapts to the environment and seamlessly adjusts noise reduction levels for optimum audio performance.
The HX's 40mm custom-tuned speakers with aluminum composite diaphragms also ensure great audio quality across a wide spectrum of frequencies.
When taking into account the audio codec support, it becomes apparent that:
The Beoplay H95 supports Qualcomm® aptX™ Adaptive
The Beoplay HX is equipped with Qualcomm® aptX™ HD support.
A closer look at the audio capabilities of each model had me delving into their unique features:
The H95's audio is highly customizable, with users being able to tweak details through the Bang & Olufsen mobile app. This feature is perfect if you want more control over your audio preferences.
The HX, on the other hand, provides adaptive audio optimization. This function enables the headphones to continuously adjust audio balance and noise cancellation depending on the surroundings.
The Beoplay H95 and HX both deliver amazing audio performance. The H95 stands out with its superior sound accuracy and customization options.
While the HX excels in noise-canceling adaptability and overall balance. Your ultimate choice will be determined by your specific listening preferences and priorities in premium headphones.
You May Like It: Mackie CR3-X vs CR4-X: A Detailed Comparison
Noise Cancelation Capabilities
Having used both the Beoplay H95 and HX headphones, I can confidently discuss their noise-cancelation capabilities.
Closely examining these headphones, it's easy to see why they are considered top-of-the-line. Let's delve into their specific noise-canceling features and how they compare.
| Feature | Beoplay H95 | Beoplay HX |
| --- | --- | --- |
| ANC Type | Adaptive | Standard |
| Number of Noise Cancellation Levels | 11 | N/A |
| Customization via App | Yes | Yes |
The Beoplay H95 features Adaptive Active Noise Cancelation (ANC). It's capable of providing a near-silent experience that can be tuned to the user's preference.
There are 11 levels of noise cancelation, allowing you to fine-tune the external noise reduction in different environments. Its advanced audio algorithms and precise microphones effectively analyze and cancel out ambient noise, letting you enjoy an immersive audio experience.
On the other hand, the Beoplay HX offers 4 microphones for its noise-cancelation technology. These mics work seamlessly to deliver excellent audio quality while blocking external noise.
The HX headphones also feature some degree of adaptability, allowing customization of noise-cancellation settings through the Bang & Olufsen App.
Both headphones have been designed with memory foam cushions, which not only provide comfort but also aid in passive noise reduction by creating a seal around the ears. This helps in blocking out ambient noise and ensuring exceptional listening experiences.
In terms of battery life, noise cancelation does consume extra power. The Beoplay H95 has a 38-hour battery life with ANC enabled, while the HX can last up to 35 hours with ANC activated. These are impressive figures, providing you with ample usage time before needing to recharge.
Both the Beoplay H95 and HX excel when it comes to noise-cancelation capabilities. The H95's adaptive ANC adds an extra edge, enabling fine-grained control over noise reduction levels, whereas the HX offers a more standard yet still effective noise-cancelation experience.
Comfort and Fit: Beoplay H95 vs HX
When it comes to comparing the comfort and fit of the Beoplay H95 and the Beoplay HX, there are several aspects to consider. Both headphones are premium offerings, designed to provide an enjoyable audio experience. Having tried both of these headphones, I have observed some key differences and similarities in their comfort and fit.
First, let's examine their shared features. Both headsets feature memory foam cushioning on the ear cups, providing a snug and comfortable fit around your ears.
The headbands on both models are also padded, reducing pressure on the head. This padding ensures long-lasting comfort, perfect for extended listening sessions. Additionally, both models are designed with an adjustable headband, allowing for a personalized fit.
However, there are some notable differences between the H95 and the HX when it comes to comfort and fit:
Weight: The Beoplay HX is slightly lighter than the H95, weighing in at 285g compared to the H95's 323g. This difference might not seem substantial, but it can make a noticeable impact on comfort during extended use.
Ear Cup Design: The Beoplay H95 features an over-ear design, while the HX has a slightly larger ear cup size. This difference can affect how the headphones fit on your head, as the HX's larger ear cups potentially provide a more encompassing fit.
Materials: The H95's ear cushions are made from genuine lambskin, whereas the HX uses leatherette. While both materials have their merits, some users might prefer the softness and breathability of genuine lambskin.
Also Read: 4 Best Led Zeppelin Songs of All Time
Battery Life Comparison: Beoplay H95 vs HX
When it comes to battery life, both the Beoplay H95 and the HX headphones have a lot to offer. I've found that the Beoplay H95 boasts an impressive battery life of up to 38 hours of playtime with Active Noise Cancellation (ANC) and Bluetooth enabled. On the other hand, the Beoplay HX has a slightly longer battery life of up to 40 hours under the same conditions.
| Model | With ANC & Bluetooth | Without ANC & Bluetooth |
| --- | --- | --- |
| H95 | 38 hours | 50 hours |
| HX | 40 hours | 60 hours |
In terms of charging, both models utilize a USB-C charging port. The Beoplay H95 takes approximately 2 hours to fully charge, while the HX takes a slightly shorter time at around 1.75 hours. When you're in a hurry, both headphones feature a handy quick-charge function.
For the H95, charging for just 15 minutes provides 3 hours of playtime, while the HX gains 4 hours of playtime after a 15-minute quick charge.
Some additional battery-related features include:
Battery indicators: Both the H95 and HX have an LED battery indicator and also provide battery life alerts via voice prompts.
Auto power-off: The headphones automatically turn off when not in use, conserving battery life.
Replaceable batteries: Although not a common necessity, both models have user-replaceable batteries, extending the overall lifespan of the headphones.
It's worth noting that individual usage habits, such as volume level and frequency of use, can impact the overall battery life of both headphones. Keep this in mind when deciding which model best suits your needs. Ultimately, you can't go wrong with either the Beoplay H95 or the HX when it comes to battery performance.
Connectivity and App Support
When it comes to connectivity and app support, both the Beoplay H95 and HX have their strengths. I've had the opportunity to test both models and here's what I found:
Bluetooth Connectivity
For wireless connections, the Beoplay H95 and HX headphones rely on Bluetooth technology. The H95 uses Bluetooth 5.1, while the HX offers slightly improved Bluetooth 5.2. Here's a comparison of their Bluetooth codecs:
| Codec | Beoplay H95 | Beoplay HX |
| --- | --- | --- |
| AAC | Supported | Supported |
| aptX | Supported | Not Supported |
| aptX HD | Supported | Not Supported |
| SBC | Supported | Supported |
| LDAC | Not Supported | Supported |
Beoplay H95 is compatible with the higher-quality aptX HD, while the HX supports Sony's LDAC codec. It's important to note, however, that codec compatibility also depends on the source device.
Wired Connectivity
For those who prefer wired listening, both headphone models include USB-C to 3.5mm cable support. Additionally, their USB-C ports enable simultaneous charging and use, which is quite handy.
App Support
The mobile app for Beoplay H95 and HX is the Bang & Olufsen app, available for both Android and iOS. I found the app easy to use, and it offers several benefits:
EQ customization: Allows you to adjust the sound profile to fit your preferences.
Firmware updates: Ensures your headphones stay up to date with the latest features and improvements.
Product registration: Simple process to register your headphones for warranty purposes.
User guides: Provides in-depth information about your specific headphone model.
Multi-Device Pairing
I discovered that the Beoplay H95 struggles with multi-device pairing, which isn't an issue with the HX. The H95 allows you to pair with multiple devices, but you must manually disconnect from one to connect with another. In contrast, the HX enables seamless switching among paired devices without the need to disconnect first.
Voice Assistant Support
Both the Beoplay H95 and HX are compatible with major voice assistants, such as Google Assistant, Siri, and Amazon Alexa. You can easily access them by holding the touch-sensitive area on the earcup.
The Beoplay H95 and HX both offer robust connectivity options and solid app support. While they have slight differences in Bluetooth codec support and multi-device pairing, these headphones are both excellent choices for people who value high-quality sound and seamless experiences.
Also Read: Polk Legend L600 vs L800: A Detailed Review
Price and Value: Are They Worth It?
When it comes to choosing between the Beoplay H95 and HX, it's important to consider the price and value of each headphone. I've had the chance to use both of these high-quality products and here's what I think about their pricing and overall worth.
The Beoplay H95 is one of the more expensive options in the market, typically priced at around $800. With its luxurious materials, robust build quality, and exceptional sound performance, it's clear that the H95 is aimed at consumers who desire nothing but the best.
Features that justify its price:
Adaptive Active Noise Cancellation (ANC)
High-quality titanium drivers
Plush, comfortable earpads made of lambskin and memory foam
Customizable sound profile through the Beosonic app
On the other hand, the Beoplay HX comes in at a more modest price point of around $500. This new model retains many of the premium features found in the H95 but also introduces some design improvements and technological advancements.
Features that make the HX an attractive option:
Improved battery life: up to 35 hours with ANC enabled
Bluetooth 5.1 with multipoint connectivity
Transparency Mode for better awareness of surroundings
Slender, lightweight design for enhanced comfort
Comparing the prices, the H95 is undeniably a significant investment. However, given the excellent audio quality, luxurious materials, and adaptive ANC, it might be justifiable for those who seek the finest audio experience, regardless of the cost.
On the opposite side, the HX offers an impressive balance of comfort, features, and audio performance, making it a more appealing option for the majority of users. It boasts an extended battery life and superior connectivity while retaining a reasonable price tag.
Conclusion
After comparing the Beoplay H95 and HX headphones, I've concluded that your ideal choice depends on your specific needs and priorities.
Both models offer a luxurious listening experience, but the H95 takes it a notch higher with its unmatched sound quality, exceptional comfort, and advanced noise-canceling technology. However, the HX comes close while offering a lighter design and a slightly lower price point.
In the end, the Beoplay H95 and HX are both fantastic headphones. The H95's advanced technology, premium design, and better sound quality make it a desirable choice for the audiophile seeking a luxurious experience.
On the other hand, if you're looking for great sound, noise-canceling capabilities, and a more affordable option, the Beoplay HX is a worthy contender. I hope this article will help you make an informed decision that best suits your preferences and budget.