Looking for a digital piano can be a challenging task, especially with so many great options available on the market. Yamaha, a world-renowned brand known for its quality musical instruments, offers a range of digital pianos designed to cater to different needs and budgets.
Today, I'll be comparing three popular Yamaha digital pianos: the Yamaha P-45 vs P-71 vs P-125. It's essential to consider each model's features, performance, and value for money to determine the right fit for you.
Each of these Yamaha digital pianos belongs to the P-series, which stands for Portable, known for providing excellent sound quality and convenience.
While the P-45 and P-71 cater to beginners or those looking for an affordable option, the P-125 is designed for advanced players who require a higher level of performance. Regardless of your skill level, I'll provide you with the needed information to make an informed decision.
Understanding the differences between these three models is crucial to ensure you're investing in a digital piano that aligns with your specific needs.
In this comparison, I'll delve into the key features, advantages, and disadvantages of the Yamaha P-45, P-71, and P-125, ultimately helping you determine the best choice for your purpose. So let's dive right in and explore what these pianos have to offer.
Yamaha P-45: Key Features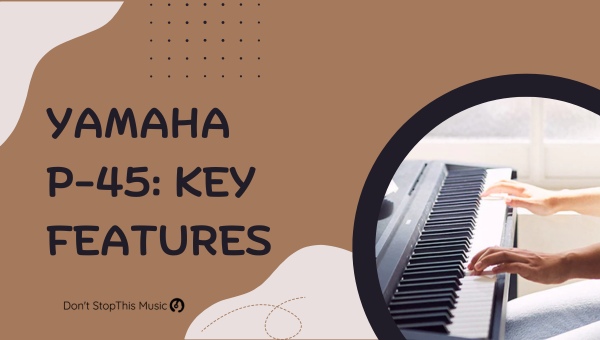 Having spent ample time using these keyboards, I can attest to their quality. Each of the Yamaha P-series digital pianos possesses unique characteristics that cater to a variety of musicians. In this section, let's dive into the key features of the Yamaha P-45 digital piano.
| Specification | Yamaha P-45 |
| --- | --- |
| Keyboard | 88-note GHS keyboard |
| Polyphony | 64-note polyphony |
| Voice Modes | Dual and Duo mode |
| Voices | 10 voices |
| Connectivity | USB to HOST |
| Weight | 11.5 kg (25.4 lbs) |
The Yamaha P-45 offers an entry-level option for those new to digital pianos or with a limited budget. One of its most significant features is the Graded Hammer Standard (GHS) keyboard, which provides a more realistic piano feel.
Heavier keys in the lower register and lighter keys in the upper register mimic the touch and response of an acoustic piano. This feature makes the piano suitable for beginners learning proper technique. Key features of the Yamaha P-45 include:
88-note GHS keyboard
64-note polyphony
Dual and Duo voice mode
10 voices
USB to HOST connectivity
Musicians looking for portability will appreciate the compact and lightweight design of the P-45. Weighing in at just 11.5 kg (25.4 lbs), it's easy to transport and perfect for gigs, rehearsals, or simply getting around.
When it comes to sound quality, the P-45 boasts Yamaha's AWM (Advanced Wave Memory) technology, offering ten different voices to play with. These voices range from rich and dynamic acoustic piano tones to electric piano, organ, strings, and more.
The P-45 also provides a dual voice mode, allowing you to layer two different voices for more creative possibilities.
Additionally, Duo mode is perfect for educators, enabling the pianist to split the keyboard into two identical half-keyboards, making it easier for students and teachers to practice together.
Ease of use is another key feature of the Yamaha P-45. USB to HOST connectivity simplifies the process of connecting the piano to a computer for recording or expanding its sound capabilities. The P-45 also includes a built-in metronome to assist with practicing and improving timing.
The Yamaha P-45 packs a punch as an entry-level digital piano, offering a plethora of features for both beginners and seasoned musicians who need a portable and versatile option.
Also Read: AKG C414 XLS vs XLII: Unveiling Key Differences
P-71: What Differentiates It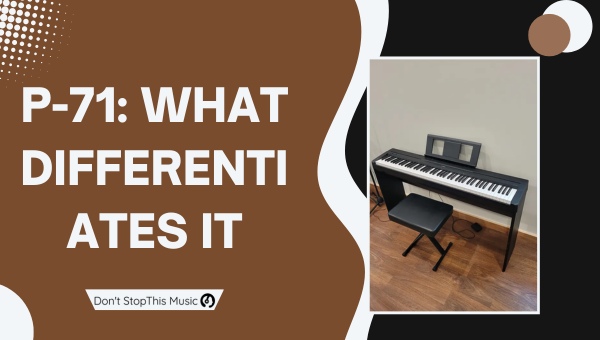 After seeing the basics of the Yamaha P-45, let's dive into exploring the P-71 and uncover what sets it apart from its counterparts. Although the P-71 may be thought of as the "middle child" of the family, there are several unique features that make it a compelling choice for pianists at any level.
| Specification | P-45 | P-71 |
| --- | --- | --- |
| Price | Slightly higher | Slightly lower |
| Availability | General | Amazon exclusive |
| Keys | 88 weighted | 88 weighted |
| Keyboard Action | GHS | GHS |
| Sound Quality | Good | Good |
One noteworthy distinction between the P-71 and the P-45 is where they are sold. Yamaha made the P-71 exclusively for Amazon, giving them the sole rights to its distribution. If you're a die-hard Amazon shopper, this is great news for you, as it's easily obtainable through the platform.
In terms of performance, the P-71 retains key features shared with the P-45, such as the 88 fully-weighted keys, identical GHS (Graded Hammer Standard) action, and decent sound quality.
However, one advantage the P-71 has over the P-45 is its slightly reduced price.
While this price difference may vary, it's an attractive attribute, especially for those on a budget.
As we consider both of these pianos, we can't overlook the P-125 in our comparison. The P-125 sports significant upgrades compared to the P-45 and P-71. It boasts a higher polyphony count of 192 instead of 64, provides more instrument voices, and offers the Smart Pianist app compatibility – a feature.
Also Read: LMMS vs FL Studio: The Ultimate Comparison
Exploring the P-125 Model
Let's delve into the Yamaha P-125 model, one of Yamaha's most popular digital pianos. With its distinctive features and exceptional performance, it's easy to see why it's a top choice for many pianists. For those who are looking for a dependable piano, below are some key aspects of the P-125:
The P-125 incorporates Yamaha's Pure CF Sound Engine, which reproduces the authentic sound of the CFX, the company's flagship concert grand piano.
This engine delivers an impressive dynamic range and produces rich, expressive tones. Moreover, the P-125 includes a 192-note polyphony, ensuring that it can handle even the most complex pieces without dropping any notes.
One of the standout features of the P-125 is its GHS-weighted action keyboard. This gradient keyboard has a heavier touch in the lower keys and a lighter touch in the upper keys, mimicking the feel of an acoustic piano. It's an essential feature for pianists hoping to develop proper finger technique and muscle memory.
Yamaha's P-125 offers an array of connectivity options. With its USB-to-Host port, users can connect it to computers or mobile devices for MIDI control and audio recording.
Additionally, the Smart Pianist app provides easy access to various functions, such as selecting voices and rhythms, controlling the metronome, and displaying sheet music.
Yamaha P-125 Connectivity Options
| Feature | Availability |
| --- | --- |
| USB-to-Host | Yes |
| Smart Pianist | Yes |
| MIDI Control | Yes |
| Audio Recording | Yes |
Several other features in the P-125 model enhance the playing experience:
20 Rhythms and 24 Instrument Voices: This variety enables pianists to choose from an assortment of sounds and styles, providing creative flexibility and a wide range of tonal options.
Bass and Drum Accompaniments: It adds an extra dimension to solo performances by making it feel like you're playing with a full band.
Onboard Speakers: The P-125's speaker system features an intelligent design that generates rich, full sound quality using its two 7W speakers on each side of the keyboard.
After exploring the Yamaha P-125's array of features, it's clear that this digital piano offers remarkable performance for its price range.
With its realistic sound, weighted action keyboard, and various connectivity options, the P-125 is an excellent choice for both beginners and experienced pianists seeking a reliable and versatile instrument.
Sound Quality Comparison: Yamaha P-45 vs P-71 vs P-125
Discussing the sound quality of Yamaha's P-45, P-71, and P-125 digital pianos is key to understanding their differences. I've had the chance to play all three models, so let me share my experience with you.
The Yamaha P-45 features AWM Stereo Sampling which records piano sounds with remarkable clarity. It comes with 64 polyphony notes, offering a rich and deep sound experience. When compared to its competitors, the P-45 definitely holds its own.
On the other hand, the P-71 has the same sound engine as the P-45. This means, their sound quality and performance are practically identical. You'll still enjoy AWM Stereo Sampling and 64-note polyphony, which is a fantastic option for beginners.
Now, let's dive into the P-125. Boasting a Pure CF Sound Engine, this piano excels with a more refined tone. It also offers an increased number of polyphony notes – 192, to be exact. This makes P-125 the best choice among the three for more advanced pianists.
| Digital Piano | Sound Engine | Polyphony Notes |
| --- | --- | --- |
| Yamaha P-45 | AWM Stereo Sample | 64 |
| Yamaha P-71 | AWM Stereo Sample | 64 |
| Yamaha P-125 | Pure CF Sound | 192 |
Another notable aspect is each piano's speaker system:
P-45: It's equipped with two 12cm x 6cm oval speakers that deliver a total of 12W output. While not the most powerful, it's sufficient for home practice.
P-71: Identical to the P-45, this model also provides a 12W total output with the same speaker configuration.
P-125: A significant upgrade, the P-125 boasts two 12cm and two 4cm speakers, providing a 14W+14W output. The result is a more comprehensive listening experience.
Understanding the individual characteristics of each model's sound quality will help you make an informed decision based on your needs and preferences.
Whether you're a beginner seeking a straightforward and reliable instrument like the P-45 or P-71, or an advanced player desiring a more sophisticated sound engine like the P-125, Yamaha has a digital piano that caters to different skill levels and tastes.
Also Read: Vandersteen 2Ci vs 2Ce: Comparing Speakers in Detail
Weighted Action: A Closer Look
When comparing the Yamaha P-45, P-71, and P-125, it's important to take a closer look at one of their key features: weighted action. As a musician, I've had the chance to try all three models, and I can confidently share my insights about their weighted action similarities and differences.
All three models utilize Yamaha's Graded Hammer Standard (GHS) action technology. This highly-recognized system provides a realistic piano feel by recreating the sensation of playing an acoustic grand piano. Here's what you can expect from each model in terms of weighted action:
Yamaha P-45 and P-71: These models offer a fully weighted action, meaning the keys feel heavier on the low end and lighter on the high end. The keys are also velocity-sensitive, allowing you to express musical nuances by controlling the volume of the sound based on how hard you press the keys.
Yamaha P-125: Unlike the P-45 and P-71, this model boasts a more advanced GHS action equipped with a heavier weight and a more realistic touch. It's still velocity-sensitive, but the P-125's action provides an enhanced playing experience suitable for advanced pianists.
In order to better understand the differences among these models, let's break down their key features in a markdown table.
| Model | Action Type | Velocity-Sensitive | Touch Sensitivity Levels |
| --- | --- | --- | --- |
| Yamaha P-45 | GHS Fully-Weighted | Yes | 3 (Soft, Medium, Hard) |
| Yamaha P-71 | GHS Fully-Weighted | Yes | 3 (Soft, Medium, Hard) |
| Yamaha P-125 | GHS Advanced Weighted | Yes | 4 (Soft, Medium, Hard, Fixed) |
These differences not only affect the feel but also the playability and versatility of each model:
The P-45 and P-71's three touch sensitivity levels accommodate various playing styles and preferences, offering a level of realism that beginner to intermediate players would find satisfying.
The P-125's additional touch sensitivity level and enhanced weighted action cater to advanced players seeking a professional experience closely resembling the feel of an acoustic grand piano.
The Yamaha P-45, P-71, and P-125 all provide a high-quality weighted action experience. However, the P-125 stands out due to its improved GHS action that delivers a more authentic piano feel.
All pianists would enjoy the P-45 and P-71's weighted action, but advanced musicians who demand the highest level of touch and expression will find the P-125 to be the most suitable option.
Portability and Design: Yamaha P-45 vs P-71 vs P-125
When comparing the Yamaha P-45, P-71, and P-125, it's essential to examine their portability and design. I've had the opportunity to try out each of these models, and I'll share my thoughts and observations with you.
Starting with the Yamaha P-45, weighs approximately 25 lbs, which makes it relatively easy to transport. Its dimensions are 52.2″ x 11.6″ x 6″, making it a suitable option for small spaces or even for traveling musicians. The design is sleek and compact, with a minimalist set of controls and buttons, ensuring a straightforward user experience.
Moving on to the Yamaha P-71, which is an Amazon-exclusive model, it shares the same design and specifications as the P-45. Weighing in at 25 lbs, and with the dimensions of 52.2″ x 11.6″ x 6″, it's equally portable and compact. To clarify any confusion, the P-71 is essentially a rebranded version of the P-45, exclusively available through Amazon.
Lastly, the Yamaha P-125 is slightly heavier, weighing around 26 lbs. However, it remains fairly easy to carry and transport. With dimensions of 52.1″ x 11.6″ x 6.5″, it's still a viable option for musicians on the go or those with limited space. In terms of design, the P-125 has a few more features than the P-45 and P-71, with additional built-in rhythms and a more powerful speaker system, offering enhanced audio capabilities.
When considering the portability and design of these Yamaha pianos, keep in mind the following points:
Both P-45 and P-71 feature similar dimensions and weight, making them equally portable and suitable for tight spaces.
P-125 has a slightly larger build and additional features, but it's still relatively portable and offers enhanced audio capabilities.
From my experience, each model has its merits in terms of portability and design. The choice ultimately depends on your specific needs, such as space constraints, budget, and desired features.
Connectivity Options
When it comes to the connectivity options of the Yamaha P-45, P-71, and P-125, there are some similarities and differences worth noting. I'll start by outlining the common features present in all three models.
USB to Host port – a standard feature that allows for MIDI and audio data transfer
Sustain pedal jack
Now, let's dive into the differences in connectivity options that set these models apart.
Yamaha P-45
The Yamaha P-45, an entry-level digital piano, has the fewest connectivity options among the three. Apart from the USB to Host port and sustain pedal jack, there's only a headphone jack for silent practice.
Yamaha P-71
The Yamaha P-71, an Amazon-exclusive model, shares the same connectivity options as the P-45:
USB to Host port
Sustain pedal jack
Headphone jack
While it doesn't offer additional features compared to the P-45, the P-71 remains an excellent choice for musicians who value simplicity.
Yamaha P-125
In contrast to its counterparts, the Yamaha P-125 comes equipped with more advanced connectivity options that cater to a broader range of uses. These additional features include:
AUX Out – this allows you to connect the piano to external amplifiers or speakers, perfect for performances or band practice
Two headphone jacks – ideal for duets or simultaneous practice
Smart Pianist app compatibility – with this app, you can control your P-125's settings, record your performance, or explore various sound customization options
Apart from the connectivity options, it's crucial to remember that the models vary in other aspects, such as polyphony, sound quality, and price. But when it comes to connectivity alone, the Yamaha P-125 stands out, offering greater flexibility for various musical needs.
Also Read: Kicker KS vs CS vs DS: Detailed Comparison
Price Points: P-45, P-71, and P-125
When deciding on a digital piano, not only is the quality and performance important, but so is the price. The Yamaha P-45, P-71, and P-125 all have different price points, making it crucial for potential buyers to understand the differences in cost among them. Let's explore the pricing details of these three models to give you a better idea of which one might fit your budget.
The Yamaha P-45 is the most affordable option among the three, with a price tag ranging from $450 to $500. It's a great option for beginners or budget-conscious musicians who need a reliable digital piano without breaking the bank. The P-45 offers a wide range of features, such as 64-note polyphony and realistic piano sounds, making it a sound investment for its price.
There's an Amazon-exclusive version of the P-45, the Yamaha P-71. This model is almost identical to the P-45, except it can only be purchased from Amazon or authorized Yamaha dealers who work with Amazon. In terms of price, the P-71 typically costs around $450, making it a similarly affordable option. If you're an Amazon shopper, you might find purchasing the P-71 more convenient.
On the higher end, the Yamaha P-125 costs between $600 to $650. It's designed for more advanced players, offering 192-note polyphony, additional instrument sounds, and various functions that allow for greater customization. If you're an experienced player or someone who values higher-quality performance, investing in the Yamaha P-125 might be worth the extra cost.
It's worth considering that these prices may vary depending on the retailer, package deals, and if any discounts or promotions are running. Some packages might include stands, benches, or cases, which can affect the overall cost.
When deciding on which digital piano to buy, take note of:
Your budget: Are you looking for a more affordable option, or are you willing to invest in higher-quality features?
Your experience level: If you're a beginner, the Yamaha P-45 or P-71 could be sufficient, whereas more advanced players might opt for the P-125.
Package deals: Keep an eye out for package deals that include useful accessories, but also factor in the overall cost.
The price point is a significant factor when choosing between Yamaha P-45, P-71, and P-125, but it's essential to weigh up quality and performance alongside price to find the right digital piano for your needs.
Conclusion
Throughout this article, I've taken a close look at the Yamaha P-45, P-71, and P-125 digital pianos. By analyzing their features, pros, and cons, I've gained a deeper understanding of what each model has to offer.
In summary, selecting the right digital piano depends on individual preferences and requirements. If you're just starting out and need an affordable yet reliable option, the P-45 or P-71 might be a perfect fit for you. On the other hand, if you're an experienced player seeking advanced features and improved sound quality, the P-125 should be on top of your list.
I hope this comparison has been helpful in guiding you toward making an informed decision when choosing between the Yamaha P-45, P-71, and P-125 digital pianos. Happy playing!