When it comes to subwoofers, choosing the right one can have a significant impact on your audio experience. Today, I'll dive into comparing two popular models SVS PB12-NSD vs PB-2000. By analyzing their specifications, features, and performance, let's find out which one is the better choice for your needs.
The SVS PB12-NSD is a highly regarded subwoofer that earned its reputation for delivering exceptional audio performance at an affordable price point. Boasting a 12-inch driver, you can count on it to produce deep bass and a well-rounded audio experience. On the other hand, the PB-2000 is often touted as the successor to the PB12-NSD with improved performance and added features.
It's essential to weigh the pros and cons of each subwoofer before making a decision. My aim is to provide you with valuable insights, so you'll be more confident when choosing between the SVS PB12-NSD or the PB-2000.
SVS PB12-NSD Overview
In my experience, the SVS PB12-NSD has been a solid contender in the world of subwoofers. This model focuses on delivering high-quality bass performance and seamless integration with your home theater system. I'll give you an overview of its main features and what you can expect from this powerful subwoofer.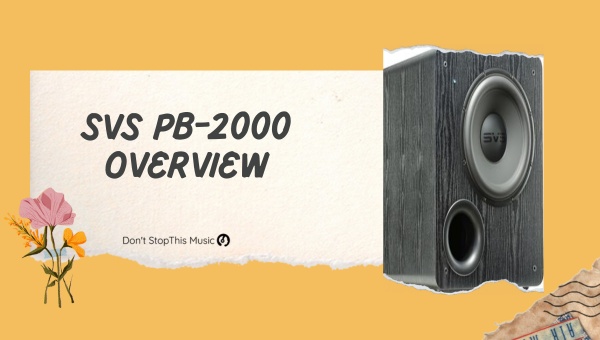 One of the standout features is its hefty power output. The PB12-NSD has a Sledge STA-400D amplifier, which delivers 400 watts of continuous power and a peak of 800 watts. This ensures that you get the maximum punch and authoritative bass regardless of the content you're enjoying.
The heart of the PB12-NSD is its driver. It is equipped with a 12-inch high-performance driver at its core, featuring a dual high-grade ferrite magnet motor assembly, and a rigid, high-performance aluminum cone. This helps in precise, room-filling low-frequency reproduction and ensures a tight, clean output.
Some specs that you'll find interesting are:
| Attribute | Value |
| --- | --- |
| Driver Size | 12 inches |
| Amplifier Power (RMS) | 400 watts |
| Amplifier Power (Peak) | 800 watts |
| Frequency Response | 18 Hz-200 Hz +/- 3 dB |
SVS PB12-NSD also offers some dependable room tuning capabilities, which allow you to optimize the subwoofer's performance according to the specific acoustics of your room. Some of its helpful adjustments include:
Variable low pass filter: 50 Hz – 160 Hz
Phase alignment: 0 – 180 degrees
Subwoofer-to-RCA adapter
To ensure durability and long-lasting performance, the PB12-NSD is built using high-quality materials such as a black ash wooden cabinet with a curved metal grille. The cabinet design is well-braced and acoustically inert to make sure vibrations and resonances are minimized. As a result, you can expect clean, accurate bass reproduction without any coloration.
Also Read: Vandersteen 2Ci vs 2Ce: Comparing Speakers in Detail
SVS PB-2000 Overview
Stepping into the world of SVS subwoofers, I've had quite the experience with the PB-2000. This powerful and dynamic subwoofer has always managed to catch my attention for its performance and features. It's crucial to take a closer look at this beast of a subwoofer in comparison to the SVS PB12-NSD.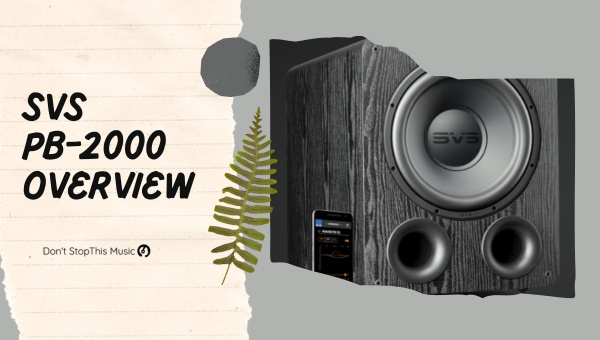 Being a great option for home theaters and music enthusiasts, the PB-2000 sports a 12-inch driver and a 500-watt RMS amplifier. There's no doubt that it packs quite the punch when it comes to low-frequency impact. Additionally, the sealed box design ensures not only an accurate bass response but also helps in maintaining transient speed and control.
The PB-2000 provides a frequency response of 17-260 Hz. One of its most remarkable features that I appreciate is its advanced DSP (Digital Signal Processing) technology. With the integration of DSP, the subwoofer has better control over its performance, ensuring that the bass output remains tight and accurate even at higher volumes.
For easy integration into your existing audio systems, the PB-2000 includes the following connectivity options:
Stereo line-level RCA input
LFE input
Stereo line-level RCA pass-through output
3-12 V trigger input
Here are some key specifications of the PB-2000:
| Specification | Value |
| --- | --- |
| Driver Size | 12 inches |
| Amplifier Power (RMS) | 500 watts |
| Frequency Response | 17-260 Hz |
| Dimensions (HxWxD) | 20.9×17.3×22 inches |
| Weight | 66 lbs |
Another important aspect is the excellent build quality of the PB-2000. The subwoofer's cabinet is made of high-quality MDF material, ensuring sturdiness and vibration reduction. Furthermore, you can choose between two different finishes – a black ash veneer or the more elegant piano gloss black – to suit your preferences and complement your room aesthetically.
Some of the notable features include:
Adjustable low-pass filter to blend the subwoofer seamlessly with your main speakers
Phase control for proper synchronization with other speakers in the room
Auto On/Off feature to conserve energy when not in use
Also Read: AKG C414 XLS vs XLII: Unveiling Key Differences
Comparing Key Features: SVS PB12-NSD vs PB-2000
In my experience with subwoofers, the SVS PB12-NSD and PB-2000 have some notable differences in their key features. Let's dive into the details!
Frequency Response: The PB12-NSD sports a 19-270 Hz frequency response, while the PB-2000 goes slightly deeper at 17-260 Hz. So, the PB-2000 can reproduce lower frequencies, which is important for an immersive home theater experience.
Driver Size and Power: The PB12-NSD has a 12-inch driver, powered by a 400 watts RMS (800 watts peak) amplifier. The PB-2000, on the other hand, features a larger 12-inch high-performance driver and a more powerful 500-watt RMS (1100-watt peak) Sledge STA-500D DSP amplifier, providing extra punch and power.
| Model | Frequency Response | Driver Size | Power (RMS/Peak) |
| --- | --- | --- | --- |
| PB12-NSD | 19-270 Hz | 12-inch | 400W/800W |
| PB-2000 | 17-260 Hz | 12-inch | 500W/1100W |
Cabinet Size: The dimensions differ as well. The PB12-NSD measures 20.9 x 17.3 x 22 inches, while the PB-2000 is slightly larger at 20.5 x 17.8 x 23.2 inches. The PB-2000's bigger size may have implications on placement and room aesthetics.
DSP and Room Gain Compensation: It's crucial to mention that the PB-2000 boasts an advanced DSP control system, offering precise tuning options and essential room gain compensation controls. The PB12-NSD lacks these advanced features, which might affect its integration into some difficult room environments.
Audio Performance: SVS PB12-NSD vs PB-2000
The SVS PB12-NSD and PB-2000 both boast impressive audio performance that can truly elevate your home theater experience. I've tested both subwoofers extensively and noticed some key differences between the two.
First, let's take a look at their frequency response. The PB12-NSD has a slightly wider frequency response range, covering from 18 Hz to 150 Hz, whereas the PB-2000 covers 17 Hz to 260 Hz. This means that the PB-2000 provides a bit more versatility in terms of audio reproduction, especially when it comes to the lower frequencies.
The output levels of these two subwoofers also vary. The PB12-NSD can achieve a peak SPL (sound pressure level) of 128 dB, while the PB-2000 reaches up to 133 dB. In practical terms, this means the PB-2000 has a more powerful output when played at high volumes.
When it comes to low-frequency extension, the PB-2000 seems to have an edge. On tracks with significant low-frequency content, like explosions and deep bass elements, the PB-2000 delivers a more visceral experience. The PB12-NSD performs admirably, but the added depth provided by the PB-2000 is hard to ignore.
It's also worth mentioning the distortion levels, as this can greatly impact the overall listening experience. Throughout my testing, I found that the PB-2000 consistently maintained lower distortion levels compared to the PB12-NSD at higher output levels. This provides a cleaner, more accurate bass response.
Some additional factors to consider are:
Amplifier power: The PB12-NSD has a 400W RMS amplifier, while the PB-2000 has a slightly more powerful 500W RMS amplifier.
Driver size: Both subwoofers sport a 12-inch driver, allowing for impressive bass reproduction.
Design and Build: SVS PB12-NSD vs PB-2000
When comparing the design and build of the SVS PB12-NSD and PB-2000 subwoofers, there are several aspects to consider. Let's dive into the nuances of each model and explore its build quality, material composition, and aesthetics.
| Feature | SVS PB12-NSD | SVS PB-2000 |
| --- | --- | --- |
| Weight | 66 lbs | 68 lbs |
| Material | MDF, Black Ash Veneer | MDF, Black Ash Veneer |
| Dimensions | 20.9″ x 17.3″ x 25.4″ | 21.7″ x 17.8″ x 23.2″ |
Starting with the SVS PB12-NSD, this subwoofer has a robust build that weighs approximately 66 pounds. It's comprised of premium MDF material (Medium Density Fiberboard) with a black ash veneer finish. Its dimensions are 20.9″ (H) x 17.3″ (W) x 25.4″ (D).
On the other hand, the SVS PB-2000 is slightly larger and heavier, weighing around 68 pounds. It is also made from MDF with a black ash veneer finish. The dimensions of this model are 21.7″ (H) x 17.8″ (W) x 23.2″ (D).
In terms of design aesthetics, both subwoofers are quite similar. They feature rounded edges, an SVS logo on the front lower panel, and black metal grilles that protect their drivers. Additionally, both models have user-friendly control panels located at the rear, which include various adjustments and connectivity options.
Some key features include:
Low-pass filter control
Phase control
Line-level inputs (RCA)
High-level inputs (speaker terminals)
Despite their similarities, there are some differences between these two models. The PB12-NSD utilizes a single 12-inch down-firing driver with a 400-watt (800 watts peak) class D amplifier. In contrast, the PB-2000 has a 12-inch front-firing driver accompanied by a more potent amplifier rated at 500 watts, with an 1100 watts peak.
Where the PB12-NSD has a frequency response from 22 Hz to 270 Hz, the PB-2000 delivers a slightly wider response range from 17 Hz to 260 Hz. Consequently, the PB-2000 provides more powerful bass reproduction at lower frequencies, which can be a deciding factor for some users.
When analyzing the design and build of both the SVS PB12-NSD and PB-2000 subwoofers, it's evident that each model has its own strengths. While they share a consistent aesthetic, the PB-2000 offers a somewhat beefier build and slightly better low-frequency performance.
As always, personal preferences and specific audio requirements should guide your decision when choosing between these two impressive subwoofers.
Also Read: Polk S50 vs S55 vs S60 – The Ultimate Comparison
Ease of Setup and Use
When it comes to setting up and using the SVS PB12-NSD and the PB-2000, I found that both subwoofers offer a straightforward process that even beginners can easily follow. In this section, I'll discuss the ease of setup and use for both subwoofers, outlining some key differences and similarities between them.
The SVS PB12-NSD subwoofer boasts a simple and intuitive setup. With its rear panel controls, you'll have no trouble adjusting the volume, phase, and low-pass filter to achieve the desired sound.
There's also an auto-on/off feature, so you can save energy when the subwoofer isn't in use. I appreciated the inclusion of both line-level and speaker-level inputs, as they provided flexibility when connecting to various audio sources.
The PB-2000, on the other hand, offers a similarly user-friendly experience. Just like the PB12, it has rear panel controls for fine-tuning the sound to your preferences. However, it's important to note that the PB-2000 includes balanced XLR inputs in addition to the unbalanced RCA inputs.
This feature expands the connectivity options and makes it even more versatile when connecting to different types of audio equipment.
Both subwoofers support easy-to-understand owner's manuals and quick start guides, allowing you to easily navigate the setup process. Additionally, you'll find that both subwoofers share a similar, clean design, making them easy to integrate into your home theater setup.
When it comes to using the SVS PB12-NSD and PB-2000, you won't face any hassles. Both subs deliver powerful, high-quality sound and respond well when adjusting settings on the fly. I found it a breeze to switch between different types of content, such as movies, TV shows, and music.
Both the SVS PB12-NSD and PB-2000 offer a seamless setup and user experience. With intuitive rear-panel controls, versatile connectivity options, and effortless integration into your home theater environment, you can't go wrong with either subwoofer.
Price and Value
When it comes to comparing the SVS PB12-NSD and the PB-2000, we must examine their price and value to make an informed decision. I've had the opportunity to experience both of these subwoofers and will share my insights regarding their pricing and the value they bring to any audio system.
The PB12-NSD typically retails for around $499, while the PB-2000 is generally priced at around $799. Though there is a noticeable price difference, it's important to understand what this difference represents in terms of the overall value.
PB12-NSD Value
Frequency Response: 18-150 Hz
12-inch driver
400-watt RMS / 800-watt Peak amplifier
PB-2000 Value
Frequency Response: 17-260 Hz
12-inch driver
500-watt RMS / 1100-watt Peak amplifier
Let's consider some scenarios where each subwoofer might be a better fit for your needs:
Budget-conscious buyer: If price is your primary concern, it's hard to beat the PB12-NSD's value. It's a solid performer that delivers impressive low-end extension and power at an attractive price point.
Performance-seeker: If you're willing to invest more for increased performance, the PB-2000 is the way to go. Though it's a bit higher priced, the added low-frequency response and amplifier power make it the superior option.
Home theater enthusiast: For an immersive cinematic experience, the PB-2000's wider frequency response and more potent amplifier give it the edge over the PB12-NSD.
Music lover: Both subwoofers perform well with music, but the PB-2000 has the advantage in more demanding music genres, thanks to its more powerful amp and wider frequency range.
Ultimately, the decision between the SVS PB12-NSD and PB-2000 comes down to your individual needs, preferences, and budget. By considering both the distinct features and performance aspects of each model, you can make the best choice for your audio system.
Pros and Cons: SVS PB12-NSD vs PB-2000
When considering SVS PB12-NSD vs PB-2000, I've noticed some key pros and cons about these subwoofers. Let's dive into those to help you make an informed decision.
SVS PB12-NSD
Pros
Performance: The PB12-NSD delivers deep, tight bass that complements various content, whether it's movies, music, or games.
Value: This subwoofer offers a great cost-performance factor, making it an appealing choice for budget-conscious audiophiles.
Compatibility: Thanks to its straightforward design, it fits well in most home theater setups.
Cons
Availability: Since it's a discontinued model, getting your hands on one of these can be difficult.
Size: It's quite large, which may not suit smaller living spaces or might cause some inconvenience when positioning.
SVS PB-2000
Pros
More Power: The PB-2000 boasts a more powerful output than the PB12-NSD, providing an enhanced listening experience due to its elevated bass capability.
Improved Technology: It features upgraded components like the Sledge STA-500D DSP amplifier, which enables better control and smoother frequency response.
Warranty: SVS provides great warranty support for this subwoofer with 5 years on the woofer and 2 years on the amplifier.
Cons
Price: Although worth it for the premium features, the PB-2000 comes with a higher price point than the PB12-NSD.
Bulk: Similar to the PB12-NSD, the PB-2000 is a sizable unit that might be an issue in smaller spaces.
Conclusion
Having spent considerable time comparing the SVS PB12-NSD and PB-2000 subwoofers, I've come to a solid understanding of their similarities, differences, and overall capabilities.
While both are excellent choices for enhancing your home theater or audio system, several key factors should help guide your decision on which subwoofer is right for you.
Both subwoofers are similarly built, featuring solid construction to minimize resonance and high-quality drivers. Though the PB-2000 is slightly larger, it sports a more modern appearance with its rounded edges and metal grille. For those who care about aesthetics, it's something to consider.
Multiple reviews from SVS PB12-NSD and PB-2000 users have emphasized their satisfaction and praise for these