When it comes to choosing the perfect music production tool, two names constantly come up: the Akai Force and the MPC Live. As an avid musician, I've spent countless hours researching and getting hands-on experience with both options.
With their unique features and capabilities, they've revolutionized the music production landscape – but which one deserves a spot in your studio? I'll dive deeper into this question in the following paragraphs and compare both the Akai Force vs MPC Live.
The Akai Force brings a standalone music production experience that's highly versatile and catered towards live performance. With its clip-based workflow, touch-sensitive controls, and powerful built-in synths, it allows for seamless music creation and improvisation.
The MPC Live, on the other hand, is a smaller and more portable option focusing on traditional sampling and beat-making. Its powerful sequencer, responsive pads, and sizable song storage capacity make it an attractive unit for both in-studio work and on-the-go music production.
It's crucial to consider your preferred workflow, performance requirements, and long-term goals before investing in either device. Some musicians might lean towards the Akai Force for live setups, while others may find the MPC Live more suitable for classic beat-making needs.
Stay tuned as I delve further into the specifics of each device and help you determine which one is the best fit for your unique musical journey.
The Legendary Brands: Akai Force and MPC Live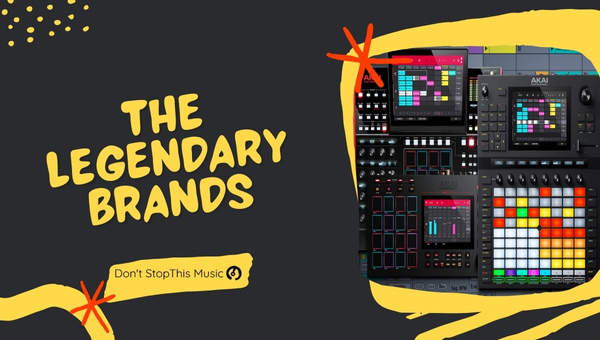 Being a music enthusiast, I can't help but appreciate the Akai Force and MPC Live, two legendary products from Akai Professional. These powerful, versatile music production stations have carved a niche for themselves in the world of music-making. Let's dive in and explore what makes each of these devices stand out.
Akai Force is a force to be reckoned with when it comes to standalone music production. This powerhouse enables a fluid, versatile approach to creativity that captures the essence of its name. With its clip-launching matrix, multi-touch display, and well-designed interface, it's easy to see why so many musicians and producers have trusted the Akai Force for their projects.
Some of the key elements that make the Akai Force an ideal choice include:
64 pads with RGB backlighting
8×8 clip-launch matrix
7-inch multi-touch display
Seamless Ableton Live integration
MPC Live is another favored option for those seeking portable, feature-rich music production capabilities. This sleek, compact device packs quite a punch, with its combination of powerful software and classic MPC features. Its intuitive interface allows for complete control over your music-making, regardless of whether you're in the studio or on the go.
Notable features unique to the MPC Live:
Compact design for maximum portability
Battery-powered for use in any location
Dedicated controls, including 16 velocity-sensitive pads
Built-in storage with expandable options
When comparing these two incredible devices, it's helpful to take a look at some of the key differences. One thing that stands out is the size and form factor.
While the Akai Force is a larger unit designed for studio use, the MPC Live is compact and battery-powered, making it perfect for those on the move. Another distinction lies in the functionality – the Akai Force focuses on clip-launching and workflow enhancements, while the MPC Live puts emphasis on its classic MPC features.
In my experience utilizing both of these outstanding music production stations, I've found that it really boils down to personal preferences and specific use cases. The Akai Force excels in studio settings and MIDI sequencing, whereas the MPC Live has undeniable strengths in portability and classic beat-making capabilities.
Also Read: Grado SR60e vs SR80e: Which is Better?
Core Features: A Comparative Look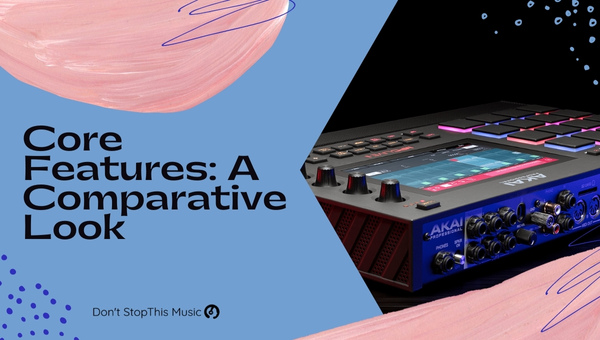 When it comes to the Akai Force and MPC Live, there are some key differences and similarities in their core features. Let me break it down for you in simpler terms to help you make an informed decision.
Sequencing and Sampling:
Both devices excel in sequencing and sampling capabilities. They both offer a 64-pad matrix, giving you ample real estate to create, tweak, and process your samples. MPC Live features a time-tested, classic 16-pad layout while the Force focuses on a more modern 8×8 grid arrangement.
The MPC Live has an edge with its legacy MPC workflow, but the Force counters with a more Clip-based approach that might resonate with today's producers.
| Feature | Akai Force | MPC Live |
| --- | --- | --- |
| Pads | 64 (8×8 grid) | 64 (16-pad x 4) |
| Pad Layout | Clip-based | Classic MPC style |
Hardware and Connectivity:
Akai Force and MPC Live come with powerful hardware and extensive connectivity options. While both devices feature built-in storage, MIDI I/O, and a USB port, the MPC Live steps up with additional SD card and SATA drive support. The Force, on the other hand, features Ableton Link and a 2-in/4-out audio interface on the back.
USB 3.0 connectivity
Built-in storage: Force (16GB), MPC Live (16GB+ dedicated user storage)
SD card support: MPC Live only
SATA drive support: MPC Live only
Software Integration:
A significant aspect of both devices is their seamless integration with their respective software counterparts. The Akai Force syncs with Ableton Live while the MPC Live uses the MPC Software. With the Force, you can easily launch clips and scenes from your Ableton Live set. However, MPC Live offers full integration with the MPC Software, giving you access to the iconic MPC workflow on your computer.
Performance and Live Instruments:
For live performances, both Akai Force and MPC Live offer impressive features. While the MPC Live comes with standalone functionality and its classic MPC workflow, the Force shines with real-time time-stretching and pitch-shifting capabilities.
It's worth noting that the Force also includes built-in instruments such as Hype synth, Tube synth, and Electric piano for added flexibility.
Akai Force and MPC Live are powerful tools, each with its own set of features tailored to different needs. It ultimately comes down to your personal preference, desired workflow, and the type of music production you're involved in. Knowing the core features of both devices should help you make an informed decision on which one suits your needs best.
Also Read: 10 Best Bands from Boston
Workflow Efficiency: Akai Force vs MPC Live
When comparing the Akai Force and the MPC Live, it's essential to evaluate their workflow efficiency to determine which device will improve your creative process. After spending time with both products, I can provide some insights on this topic.
One critical aspect of workflow efficiency is the user interface. The Akai Force provides a touchscreen interface that's easy to navigate, allowing users to perform tasks quickly, such as recording, editing, and sequencing. On the other hand, the MPC Live also offers a touchscreen interface, but its smaller size makes it slightly more challenging to maneuver through various functions.
When it comes to connectivity, the Akai Force provides more options, including:
2 MIDI In/Out ports
4 CV/Gate outputs
2 stereo audio inputs
2 stereo audio outputs.
The MPC Live boasts fewer connectivity options:
2 MIDI In/Out ports
1 CV/Gate output
1 stereo audio input
2 stereo audio outputs.
For battery-powered operation, the MPC Live takes the lead with its lithium-ion battery, enabling music producers to create beats and melodies on the go. The Akai Force, in contrast, relies on a power supply, restricting its portability.
Another factor to consider is software integration. Akai Force seamlessly integrates with Ableton Live, allowing producers to control Live's interface directly from the Force. The MPC Live integrates with the MPC 2 software, which isn't as comprehensive as Ableton Live, but it does offer advanced editing features for fine-tuning your music.
Ultimately, your preference for either the Akai Force or the MPC Live will depend on your individual needs as a music producer. Consider both devices' strengths and weaknesses to determine which will enhance your workflow and elevate your beats.
Also Read: Polk Legend L600 vs L800: A Detailed Review
Sampling Capabilities: Akai Force vs MPC Live
When it comes to sampling capabilities, both Akai Force and MPC Live offer a variety of features that I've personally found useful and innovative. In this section, we'll delve into the key differences and similarities between their sampling capabilities to help you make a more informed decision.
The first thing to consider is the number of audio inputs available for sampling in each device. Both the Akai Force and MPC Live provide two stereo inputs for sampling external sources, making them equally well-equipped in this aspect.
However, there's a noticeable difference in the way these devices handle their sampling capabilities. The Akai Force utilizes the Clip Editing Mode for editing and processing samples, whereas the MPC Live uses a more traditional Sample Edit Mode.
In my experience, the Clip Editing Mode in Force allows you to work with loops in a more intuitive, seamless manner, while the Sample Edit Mode in MPC Live provides a familiar environment for MPC users.
Although both devices excel in their own ways, one of the defining factors could be the available storage capacity for samples. The Akai Force has an internal storage of 16 GB, whereas the MPC Live comes with 16 GB of SD card storage.
It's essential to consider your personal needs and preferences when deciding on storage capacity, as the internal storage in Force might be more suitable for users who prefer to save their samples on the device, while the SD card storage in MPC Live offers more flexibility in swapping and managing sample libraries.
Connectivity and Integration
When it comes to connectivity and integration, both the Akai Force and the MPC Live offer numerous options, but let's see how they truly compare in this department. Based on my experience with these products, I'll highlight the key differences and what makes each device unique.
The Akai Force boasts an impressive assortment of connections. Here is a rundown:
2 XLR combo inputs
4 balanced Trap outputs
MIDI In/Out/Thru
2 USB 3.0 ports
SD card slot
SATA HD connector
Apart from these traditional connections, the Akai Force supports Ableton Link for easy syncing within a Live environment. It's also Wi-Fi and Bluetooth enabled, offering wireless connectivity with your favorite devices.
On the other hand, the MPC Live comes with its own set of connectivity features, which include:
2 XLR combo inputs
6 configurable ¼″ TRS outputs
MIDI In/Out
3 USB 3.0 ports
SD card slot
While there is no Wi-Fi or Bluetooth support, the MPC Live does offer a user-friendly touch interface, which helps with easy navigation between functionalities.
In terms of integration with other devices, the MPC Live provides seamless connectivity with your computer via USB. This allows you to control the MPC software on your computer, making it an excellent companion for any studio setup.
As for the software side of things, both devices have distinct advantages. The Akai Force utilizes the Ableton Live integration, allowing users to create complex arrangements with ease, thanks to its clip launching and grid-based interface. This makes it an ideal choice for any live performer or producer who needs tight integration with Ableton Live.
The MPC Live, being part of the MPC family, stays true to its tradition – boasting a familiar hardware-centric workflow that many producers love. It includes powerful editing and sampling tools, along with standalone operation – where no computer is required.
The Akai Force excels in wireless connectivity and Ableton Live integration, while the MPC Live focuses more on traditional production, with standalone operation and a familiar workflow. Ultimately, the choice depends on what you prioritize – tight DAW integration, or a hands-on, standalone experience.
Also Read: 5 Best Luke Combs Songs: List Of His Greatest Hits
Software Compatibility: Winning Combinations
Diving into software compatibility, Akai Force and MPC Live are quite versatile when paired with the right type of software. I've tested these with various combinations, and here's what I've discovered.
When it comes to Akai Force, I found it remarkably compatible with the following software:
Ableton Live: With the Ableton Live Control feature, you can flawlessly integrate the Force with the popular digital audio workstation (DAW). It adds a touch of flexibility, allowing you to record, edit, and control projects simultaneously.
Splice: Akai Force is directly connected to Splice, an online program for downloading sounds and samples. This makes it easy for you to browse, download, and add new sounds to your projects.
For MPC Live, I found it works seamlessly with these software programs:
MPC 2.0: The compatibility with MPC 2.0 software is a game changer. It provides you with the power of a fully-equipped DAW on a standalone device, expanding the ways you can edit, arrange, and mix your projects.
Pro Tools: MPC Live's compatibility with Pro Tools helps with advanced audio editing and mixing. You can route audio paths and manage effects processing on a professional level.
To further enhance the production experience, both devices offer plugins, such as:
AIR FX (high-quality audio effects suite)
Hype (synthesizer)
DAW-like automation capabilities
Akai Force and MPC Live add MIDI integration for working with a variety of external hardware, like synthesizers and drum machines, and can connect to compatible iOS applications. By collaborating with different devices, you can achieve a well-rounded production setup.
These winning software combinations demonstrate the possibilities available to you when working with either the Akai Force or MPC Live. They both offer robust software compatibility, catering to different production styles and preferences.
Also Read: Dolby Cinema vs IMAX: A Comparison for The Best Movie Experience
Expandability: Scaling Up for the Future
When it comes to the Akai Force and MPC Live, both devices offer unique features aimed at helping musicians and producers expand their creativity. In this section, I'll dive into the expandability options each device provides, focusing on how they can help users scale up their gear for the future.
The Akai Force boasts an impressive range of connections, including USB 3.0 ports, MIDI in/out, and CV/Gate outputs. This allows users to connect a variety of external instruments and controllers, such as:
Keyboards
Drum machines
Modular synthesizers
One valuable feature the Force provides is its ability to serve as an audio interface. By connecting the device directly to a computer, users can streamline their setup and reduce cable clutter. Additionally, Wi-Fi and Ableton Link integration enable seamless collaboration between multiple devices and users.
On the other hand, MPC Live focuses on delivering a more portable and standalone experience. While it also includes USB 3.0 ports, MIDI I/O, and CV/Gate outputs, the MPC Live is designed to operate without needing a computer at all. Its portability is further reinforced by a rechargeable battery, giving users the freedom to create and perform anywhere they want.
The MPC Live's expandability options include:
SD card slot
SATA drive connector for internal hard drive installation
These storage options provide ample space for projects, samples, and files, allowing users to take their work on the go without worrying about running out of room.
Both the Akai Force and MPC Live are capable of utilizing a wide range of third-party plugins and software, offering endless possibilities for sound design and production. Some of the compatible software includes:
Ableton Live: DAW integration for both devices
Splice: Access to a large library of high-quality samples and loops
Serato DJ: Integration for enhanced DJ performance capabilities
In terms of memory, the Force comes equipped with 16GB of onboard storage, which can be further expanded using an SD card or USB drive. The MPC Live, however, ships with 2GB of onboard memory but allows users to expand up to 16GB via an internal hard drive installation.
Portability: On-the-Go Music Creation
When it comes to portability, both the Akai Force and MPC Live excel in enabling seamless, on-the-go music creation. However, there are several key differences between these two devices that I'd like to highlight.
Weighing in at 7.7 pounds, the Force is slightly heavier than the 5.5-pound MPC Live. This may affect your decision if carrying your device for extended periods is relevant to your workflow. Here's a quick comparison of device dimensions and weight:
| Device | Width (in.) | Height (in.) | Depth (in.) | Weight (lbs.) |
| --- | --- | --- | --- | --- |
| Akai Force | 13.8 | 12.6 | 2.8 | 7.7 |
| MPC Live | 16.7 | 8.8 | 2.8 | 5.5 |
Battery life is another vital aspect of portability for many producers. The MPC Live features a built-in rechargeable lithium-ion battery, allowing for up to six hours of continuous use without the need for a power outlet. The Akai Force, on the other hand, does not have an integrated battery and requires an external power source during use.
Both devices boast a multitude of input/output options, making them suitable for use in various scenarios. Let's take a look at some key connectivity features:
Akai Force
2x XLR combo inputs (Mic/Line)
4x 1/4″ line-level outputs
USB 3.0 port
SD card slot
MIDI In/Out/Thru
Ethernet connection for Network MIDI & Ableton Link
MPC Live
2x XLR combo inputs (Mic/Line)
6x 1/4″ line-level outputs
USB 3.0 port
SD card slot
MIDI In/Out
Aux input & phono/line input
In terms of portability, I feel the MPC Live has a slight edge over the Force due to its lighter weight and built-in battery. That being said, the Akai Force still manages to maintain a high level of portability for its wider range of connectivity features and versatile performance controls. It ultimately depends on your personal preferences and how you plan to use your device for on-the-go music creation.
Pricing and Value
When considering Akai Force versus MPC Live, it's important to evaluate the value each device offers. Both machines come with a unique set of features and capabilities, and their prices reflect that. To make an informed decision, let's assess the pricing and value of both the Akai Force and MPC Live in terms of bang for your buck.
Akai Force has a retail price of $1,499, while the MPC Live falls a bit lower at $1,199. It's crucial to evaluate the features and tools included with each product before making a decision based solely on price.
Here are some key features offered by both devices:
Akai Force:
Clip-launching workflow
Matrix touchscreen interface
Comprehensive connectivity options
Advanced step sequencer
Powerful synthesizers and effects
MPC Live:
Standalone functionality
MIDI Control Surface
Portable design
Powerful sampling and sequencing tools
Rechargeable battery
Considering the features offered by each device, here's a brief overview of what you can expect for the price:
Akai Force caters to those who prefer a clip-launching workflow and advanced sequencing capabilities. Its extra features justify the higher price tag for live performers and producers dealing with complex setups.
MPC Live offers an extensive range of features that are perfect for producers who need a more portable option with excellent sampling and sequencing tools. While it lacks some advanced capabilities found in the Akai Force, its more affordable price point and standalone functionality make it a fantastic option for many users.
In terms of value, it ultimately depends on your specific needs and priorities. If you're looking for a device with a well-rounded skill set, the Akai Force might be worth its higher price tag. However, if portability and a wealth of sampling and sequencing tools are more critical for your creative endeavors, the MPC Live is an impressive and budget-friendly choice.
Also Read: How to Hang Speakers on Wall: Speakers Mounting Guide
Final Verdict
Given the numerous features and capabilities of both the Akai Force and MPC Live, it's time for me to offer my thoughts on which one might be best for your music production needs. Each device has its own strengths and weaknesses.
When it comes to making a choice between the Akai Force and MPC Live, it'll primarily depend on your workflow, preferences, and music production goals. If live performances or fluid studio sessions are a priority, the Force might be the better option for you. If, however, portability and classic MPC-style production are what you're after, the MPC Live might be more up your alley.
Of course, I'd recommend getting hands-on experience with both devices if you have the opportunity. This will allow you to better gauge which one feels most suitable, enabling you to make a well-informed decision about your new music production ally.